ed's Custom Leather is a custom leather business, which was established in 1969. Ed Todd has been creating custom leather goods for over thirty-six years. Most popularly known for his buckskin clothing, he designs Indian war shirts, hats, vests, mountain man clothing, and jackets. His favorite leather to work with is deerskin because it is so supple and versatile.
ther well known items are gun belts, motorcycle seats, chaps, knife cases, helmets, shields, whips, handbags, shopping bags, duffle bags, log totes, leather vests, saddlebags for motorcycle seats and horses, braided hat bands, and even suits of amour. He also designs Native American "artifakes" such as war clubs, stone axes, rattles, gun stock war clubs, leggings and breechcloths.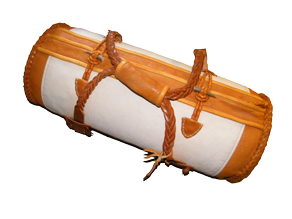 d uses American and European hides and self made rawhide made from cowhides and goatskins. All items are constructed by hand using hand stitching, leather lacing, rivets, and machine stitching. Deer antler and bone buttons are also hand made. All stress points are reinforced and clothing patterns are custom fit for that hard to find item. Clients can also design the work themselves or come with ideas for a piece of work, and it can be custom made.

is repertoire also includes hand made drums, wooden boat models and Celtic art sculptures with both indoor and outdoor designs.

d Todd is a member of the Putnam Arts Council, the Putnam Valley Arts Council and Arts on the Lake. All his work is custom made from original designs, and guaranteed for life. Ed is also available for private lessons.